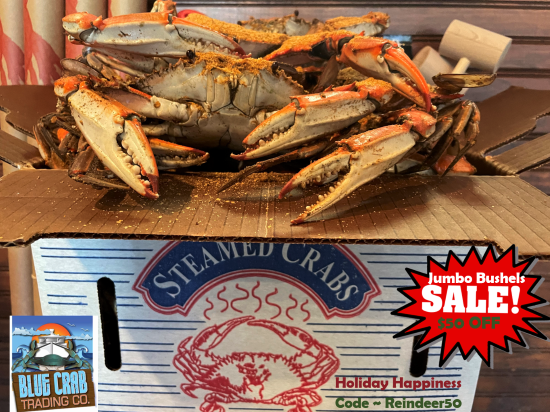 Thanks for visiting our site. Click here for promo catches.
Seafood Santa's Sleigh Wrap-Taps on the Crab Dock!
Across the nation, big-eyed seafood lovers scan the party table with hunger pangs, just searching for a delicious dish. Hosts want to please with a surprise from the sea. No chicken of the sea here. Huge platters of steamed blue crabs waft through the air. Even the poinsettia centerpiece pales in comparison to the mounds of the bright orange delicacy, decorated with a sifting of bay spices. Gifts come in all forms during the holiday. A smile filled hello, a generous helping hand, or even a beautiful promo code. These Christmas Crabs represent the best find in USA waterways, the ultimate Jumbo Bushel. Wrap and tap these salty sweet crabs for a chorus of Joy to the World! Seafood Santa whispers a secret to all crab dock revelers. "Code Reindeer50 takes $50 off a jumbo heavy bushel. Share a crab this holiday. Use this exclusive link," winks Old Saint Nick. Jumbo Bushels boast about 5 dozen x-large and large steamed crabs. Set your eyes on this centerpiece, Amazing!
---