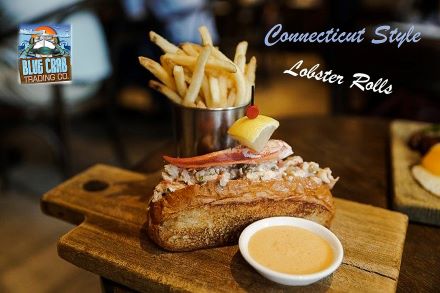 Connecticut Lobster Rolls Drip with Juicy Clarified Butter!
The Craze ~
Chefs map out Maine Lobsters for all kinds of cuisine from lobster benedict to lobster bisque. Whole or halved lobsters, tails, claws, or even claw and knuckle meat make up some delicious choices. A recipe may call for sauces and spices, but truly fresh lobster meat tastes comparable to a mix of crab and shrimp flavors. Distinctly rich and naturally buttery with a plump, somewhat fibrous texture, lobster has become a delicacy within the seafood world. Lobster docks know this and quickly steam lobsters soon after the catch. A lively lobster cooks to a healthy meat. Today, we present to you our 2-lb. vac-sealed bag of claw and knuckle meat. We even flash-froze it to ensure 100% quality when you put on your chef hat. This choice offers silky sweet claw meat and the sweetest portion from the lobster, the knuckle. Both combined together create delicious recipes.
Prepare for Success ~
First, celebrate the ease of claw and knuckle meat already picked and conveniently packed in a vac-sealed bag. Did you know that the average bag contains about 5 North Atlantic Lobsters? Talk about a time saver! Our lobster roll recipe is equally easy. Try this recipe tonight for your loved ones.
Blue Crab Trading's Authentic Recipes ~ Connecticut Crisp Lobster Rolls
Get your ingredients together.
1-pound lobster meat, shredded
9 tbsp. clarified butter
3 tbs. red Vidalia onion, chopped
2 ripe vine tomatoes, diced
½ tbsp. oregano
1 garlic clove, chopped
½ cup Pinot Grigio
4 large Italian rolls
4 oz. baby spinach
Put on that chef hat!
Step 1 ~ Turn the stove on medium high and melt the clarified butter. Introduce the onions and tomatoes. Stir and slowly add oregano, garlic and Pinot Grigio.
Step 2 ~ Make sure all ingredients combine evenly and then add the lobster shreds. Turn the heat back to medium
Step 3 ~ Allow the ingredients to turn a slight golden brown and then promptly remove. Remember, clarified butter doesn't burn, but your lobster and vegetables will!
Step 4 ~ Place the lobster salad in the fridge for 10 minutes.
Step 5 ~ Meanwhile, take your lobster rolls and dig out a hole in the center. Toast the rolls to liking.
Step 6 ~ Fill each hole with a few spinach leaves. Then scoop your lobster salad in each. Promptly serve. Bon Appetit!
Click here for more recipe ideas.