Maryland Blue Crabs Caught Daily
Shipped Live or Steamed
"From our docks to your door overnight"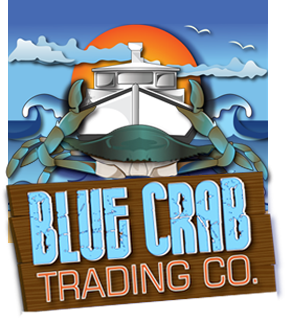 We make it easy! We're ready to drop our pots for the 2020 Crab Season! "Gentlemen, light-up your crab boats!" Track our boats here.
Blue Crab Trading respects the Chesapeake Bay Crab House Recipe for catching, steaming and serving heavy USA Blue Crabs. Other online companies reinvent the "steaming pot" like reinventing the wheel. Why fix what is already perfect! Captain Mike explains, "Catching to serving crabs requires a timely process that quickly steams healthy crabs so the meat tastes fresh." It may seem easy, but grading these pinching crustaceans requires think gloves and time to measure each crab to fit an exact scale. It's important to follow it closely to ensure "baby" crabs are thrown back into the waters while mature meaty crabs fit into the proper categories. That's where other companies play sizing games and charge you less for; well, less. You get what you pay for at Blue Crab Trading: true sizes, meaty crabs and best prices guaranteed.
Heavy Live Beastly Crabs
(When choosing a dozen, half-bushel or bushel, know the crab sizes so you feed your crowd. We measure the top shell from one point to the other to get the size. Chesapeake Bay watermen have used this sizing or grading for generations.)
Supers: 7" +
X-Large: 6 ½"-7"
Large: 6"- 6 ½"
Medium: 5 ½"-6"
Small: 5"- 5 ½"
Taming in a Steaming
Our crew steam each quantity to exact steaming times. We look at your online order and spice the crabs to your specifications. Crabs turn from a blue to an orange through the steaming. This produces the jumbo, lump and claw meat that boasts salty-sweet taste with a peppery pop from the JO Spice #2 seasoning (authentic spice used in Maryland crab houses).
Savor the Blue Crab
Roll out the crab paper and adorn it with a pile of steamed & spiced Blue Crabs. We did all the work for you. Follow these steps to quickly reheat your crabs. Option 1: Find your trusty large stock pot and place a basket within it with enough water to reach the basket, but not submerging it. Bring water to a boil and place crabs with more spice if you choose in the basket. Allow to steam for 5 minutes. Options 2: Place crabs in the oven (upside down to keep moisture in the crab meat) for 10 minutes at 375°. Once ready, pile the crabs high in the table's center and celebrate life!