Maryland Blue Crabs Caught Daily
Shipped Live or Steamed
"From our docks to your door overnight"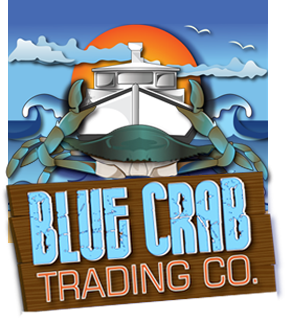 Blue Crab Trading and the Art of Shipping Crabs
Recently we accepted the award "Best Blue Crabs 2017-2018." Our shipping methods use a Five-Step Technique that ensures live crabs have optimal conditions to arrive alive and steamed crabs deliver fresh. Summertime sizzles with outdoor cookouts and we wanted to share this process with you. Our shipping guru, Captain Mike explains, "Each order receives the utmost care that our packers choose the heaviest crabs and the exact amount of gel packs and materials to accompany them. We want 100% customer satisfaction!"
Blue Crab Trading directs the crew for packing crabs and seafood.
Ensuring safe, undamaged products, especially steamed Blue Crabs requires an exact technique. Our packing team recently recorded a video to show you the procedure. We follow five important steps: 1) Choose a cooler & box that gives ample room for spice, mallets, crabs, ice packs, and packing paper. 2) Carefully load ice packs & nonfood items and separate them with an insulating bag. 3) Position crabs belly-up in a second insulating bag to maintain tender, moist meat & season with JO Spice #2. 4) Close the second insulating bag and position more ice packs and seal the cooler. 5) Insert the high-quality packing in a box for ready shipping. Each order from a dozen to a bushel receives a custom cooler to fit the order size and the packers check your customer notes to add extra spice or follow any other instructions that you type on your online order form.
Customer Testimony saying her crabs arrived fresh!
A few days ago, Beth set the table with steamed Blue Crabs and all the trimmings: extra spice, shrimp salad, hot butter, bibs, etc. She shared her experience since she couldn't believe the top-notch high-quality service and product. She shared,
"For my mother's 93rd birthday we had fresh steamed blue crabs delivered to the house. Thank you they were awesome. Yes, she picks her own crabs!"
Why do we take pride in our Blue Crab delivery service? We love making people happy with a true-Blue Crab eating experience!