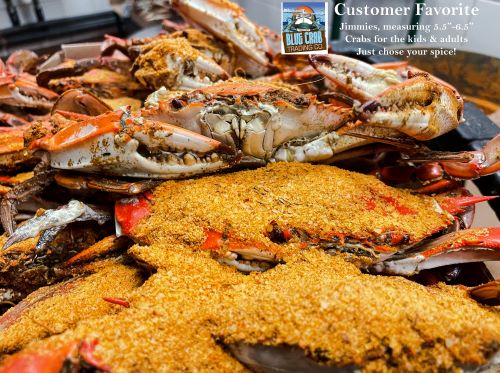 Join our Crab Club here.
Mother Nature supplies the crabs. We know how to steam them!
Here's some tips on steaming live crabs. Gather your ingredients. Large steamer pot, live crabs, 1 ½ cup water, 1 ½ cup hoppy beer, ¼ cup Sea Salt, 3 tbsp. JO Spice #2. Bring all liquids to a boil and then add one layer of crabs (shocked in ice) and season with the traditional spice used in Baltimore crab houses, JO. Then add just one more second layer. By the way, Blue Crabs require the most steaming time of all the crab species, so allow 20-30 minutes. A two-layer max will ensure a thorough cooking. Shells should turn a bright red and your hungry fans will look on in anticipation. Let cool briefly and enjoy your "Stay-at-Home crab feast!
Customer Favorite-Steamed ½ Bushel Jimmy USA Blue Crabs (5.5"-6.5")
Watermen term male crabs "Jimmy," but we go one step further and name our most popular choice "Jimmy Crabs." Measuring 5.5"-6.5" point-to-point in ½ and full bushel selections, Jimmy's have sizes for the whole family. Medium crabs (5.5"-6") satisfy a novice picker and a young enthusiast. Mediums also accompany a potato salad or corn-on-the-cob like no one's business! Large (5.5"-6") enter the entrée status with an impressive size requiring a hefty appetite for all that jumbo, lump and crab meat. All crab fans celebrate the Jimmy mix!
Half bushels size in 4 categories, all containing heavy, meaty crabs with generous amounts of JO Spice Crab House Seasoning. Each crab type offers unique qualities for your picking experience. Bays propose appetizer assets or will feed young enthusiasts handily, all for a modest price. Jimmies consist of a variety sampling from medium to large crabs that contain some amounts of lumpy, succulent, sweet meat. Jumbos present the much sought after backfin meat that serves as an entree and marvels your dinner guests. Lastly, the Females exhibit denser meat, while the male meat possesses flakier meat. Females; however, may contain eggs, a treasure to some Crab-eating connoisseurs!
Get crab tips. Click here.