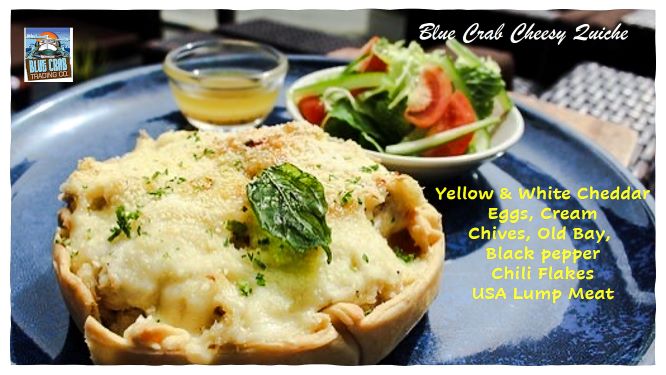 Recipe Creations ~ Blue Crab Cheesy Quiche
We did the hard part! We love picking crabs and spent yesterday and today filling up tub containers just for you! Did you know freshly picked crab meat tastes salty-sweet and slightly buttery. It sure does! Chesapeake Bay crabs are the best tasting in the world. The meat is to die for! Try this recipe to size.
Get your ingredients together.
1 (9 inch) deep dish frozen pie crust.

4 large eggs.

1 cup heavy cream.

½ teaspoon Old Bay.

½ teaspoon black pepper.

½ teaspoon red chili flakes.

1 cup shredded yellow cheddar.

¼ cup grated white cheddar.

2 tablespoons chopped chives.

½ pound Blue Crab Trading Company's Lump Crab Meat.
Get cooking!
1/ Preheat the oven to 350 degrees F. Bake the pie crust for about 10 minutes until it begins to turn brown. Place dry beans on the crust to keep weight on the crust so it doesn't bubble. (Remove dried beans once done preparing the crust.)
2/Whisk eggs, cream, Old Bay, pepper, and chili flakes. Stir in cheese and chives. Add lump meat last to keep the pieces large and not broken down from stirring.
3/Bake for 25 to 30 minutes. Then turn off the oven and let sit in the oven with the door closed for 30 minutes. The quiche will puff up and become smooth.
4/Promptly remove, slice, and serve! You may want to snap a few pictures of a sliced piece. Get all your social media friends jealous with a pic of last night's dinner! Bon Appetit!