Maryland Blue Crabs Caught Daily
Shipped Live or Steamed
"From our docks to your door overnight"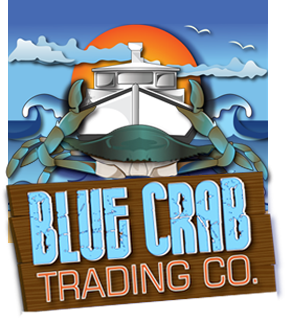 Crack a Crab everyday in 2020. A perfect New Year's Resolution!
Blue Crab Trading continues catching HUGE Blues for your cabin-fever days of winter and Big Football Game cheers. How do we do it? Easy. Our crew puts on a parka and knit cap and unfurl the crab boats into colder waters in search of heavy pots. Heavy crabs, weighing the scales with jumbo, lump and claw meat, receive an exact Chesapeake Bay scaling like no other. No guessing games here or creative sizes. We know you deserve the best for your Crack a Crab Resolution!
Check out the stats.
Supers: 7+ inches
X-Large: 6 ½ -7 inches
Large: 6-6 ½ inches
Mediums: 5 ½ -6 inches
Small: 5-5 ½ inches
Yes, you may want to reheat them.
Roll out the crab paper and adorn it with a pile of steamed & spiced Blue Crabs. We did all the work for you. Follow these steps to quickly reheat your crabs. Option 1: Find your trusty large stock pot and place a basket within it with enough water to reach the basket, but not submerging it. Bring water to a boil and place crabs with more spice (if you choose) in the basket. Allow to steam for 5 minutes. Option 2: Place crabs in the oven (upside down to keep moisture in the crab meat) for 10 minutes at 375°F. Once ready, pile the crabs high in the table's center and celebrate winter in style!
Join our crab-loving community here.