Maryland Blue Crabs win claws down!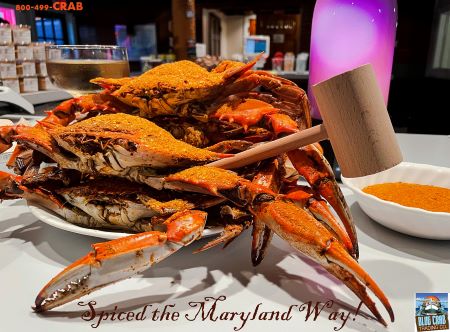 Maryland Blue Crabs win claws down!
Crowds of hungry crab fans gathered around the Blue Crab Trading dock early this morning, just peeking to see today's catch. It's all about Jimmies, a #1 crab measuring 5.5"-6.5" point-to-point on the top shell. You could hear the applause all the way back to the crab house. The captain declared a Jimmy Sale. Count your hungry crew. The average crab fan cracks 6-8 steamed blues per feast. You're a professional. You may need a dozen! Take a look at our jimmy bushel size.
"To Spice or Not to Spice?" A Delicious Question!
Many fresh catches from around America's coastlines have a healthy natural taste that don't need any "hiding." Spices and seasonings do turn a mundane fish into a robust meal, but in many cases, the USA seafood boasts either an oceanic flavor or a buttery taste. Maryland Blue Crabs steam to a salty-sweet and peppery pop with the "perfect" spicing. Gulf Grouper grills to a briny mildly sweet meat with large tender flakes. Nantucket scallops pan sear into a golden brown, tender, but plump oceanic delicacy. Each has a unique taste that lends itself to enjoying with minimal seasoning. In many cases, hot butter is the go-to for seafood, but what about the Maryland Blue Crab? It depends on where you live in America.
Enhancing the blue crab taste from hot to sweet is a goal for most home chefs. New Orleanians like it on fire with red pepper and paprika. In this case, a cold beverage is essential to put out this intense spicing. Texans take it to the sweet side with BBQ seasoning, highlighting sugars and spices. Yes, crabs boast a sweetness, so the BBQ intensifies it. To keep the flavors balanced, they couple the sweetness with salt. Marylanders prefer a spice with celery salt, paprika, and red & black pepper. Some blends add ginger for a mellowing of the peppers. If in doubt which intensity you prefer from sweet to a raging fire, return back to why you bought blue crabs. They signally capture a succulence of crab meat. Robust and fibrous claw, bold and clean lump, and buttery, pristine jumbo should always headline any flavors, so spice with caution. The taste of Maryland Crabs wins claws down!