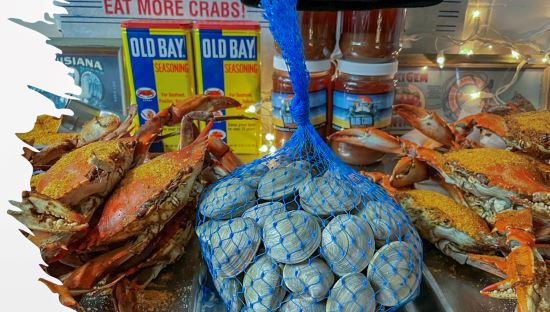 Sign-up for our delicious deals!
Sometimes you need a Half Bushel Guide!
There is no wrong half bushel, but our crew point out a few differences. Both the Female and Bay categories carry the small crab from 5"-5.5", but the Female's selection includes whoppers measuring up to 7"! Bays stretch to 6". With Bays including almost 4 dozen crabs, but with less meat, we suggest serving them with a grilled burger or other costars to make it a well-rounded cookout. Yes, Bays have jumbo, lump, and claw meat, but in less quantities. Females, on the other hand, include some rather large crabs and smaller ones. This selection pleases both young and mature feaster. You can headline your meal with a Female Half Bushel. Keep in mind though, each person picks between 6-8 crabs. Bay crabs may go up to 10 crabs depending on your sides.
Jumbos and Jimmies steal the show! Jimmies receive the title #1 Crab, while the JUMBOS wear the title, "Biggest, Baddest Blue in the Bay!" Jimmies impress with sizes from 5."-6.5" point-to-point and also stir our crab house with excitement. We coin them "The People's Favorite." Jumbo lovers, however, mean business. They can't believe the crabs smashing the scale with sizes from 6"-7". Entrée your order. That's what happens when you pick up a jumbo, bursting with loads of meat!
No matter which size you serve at your next crab feast, know that you have entered into the Chesapeake Bay Zone. The Best Maryland Blue Crabs this side of Kent Island!
Are crabs running out?
Blue Crab catches ebb and flow like the tide. Sometimes it's the outside bay world that influences the ability to get a fresh bushel at a reasonable price for your feast. The first warning sign that "things are going south" is a disappearance of crab cakes from the menu, or overly high prices. Picking houses run second to the crab houses. Throwing a feast, especially during the summer takes preeminence to the cake. Overly beautiful weather and a robust economy can increase the demand for the salty sweet delicacy. Prices rise and so do the cries from the loyal blue crab fans.
Seasonal workers and even a migrant team pinpoint the second reason crabs may become "scarce." In this case, the supply is just right, but the workers aren't enough. These workers fill in the employment gaps and give you a high-quality product with a reasonable price. Problems with other country relationships or even USA economic woes can unhinge a potentially good season.
Of course, Mother Nature may have a hand in crab populations dropping. Recently, Blue Catfish have found a strong liking for the blue. Predators and even changing food supply like oysters and clams will certainly play a role in what that half or full bushel will run. What should you do? Feast while you can! Celebrate a catch, and if you see crab cakes made with USA Blue Crab meat, stock up!