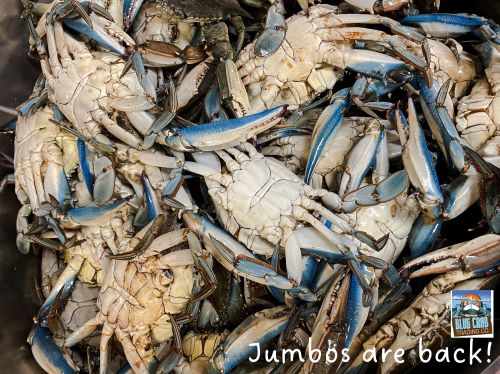 Thanks for visiting our site. Click here for coupons.
Pitch a Tent, set the picnic table, and unload a heavy cooler of blues!
Take the outdoors by storm with a crab feast so fresh, your friends will think you potted today's catch. Guard yourself from the beating sun with a beautiful canopy, a perfect sanctuary to serve up a half bushel of jumbos. Did you know crabs start getting rusty bellies this time of year, signifying meat-filled shells? Unroll the crab paper, fill ramekins with butter, and pour spice into bowls. Win friends and influence people with your professional crab eating skills! Blue Crabs stay fresh after an exact steaming, up to five days in fact, so keeping this most welcomed dinner guest, the blue crab, chilled certainly makes sense. Pop the top and unfold the lining and you'll behold the treasure from the bay in your very own custom crab cooler. Did you know each day we celebrate different catches based on our crabbing luck? Today, we tap our wooden mallets for the JUMBOS! They are back!
Recent Crab News~
Jumbo Crabs, Worth Talking about!
Usher in '22 with a Delicious Blue Crab Catch!
---